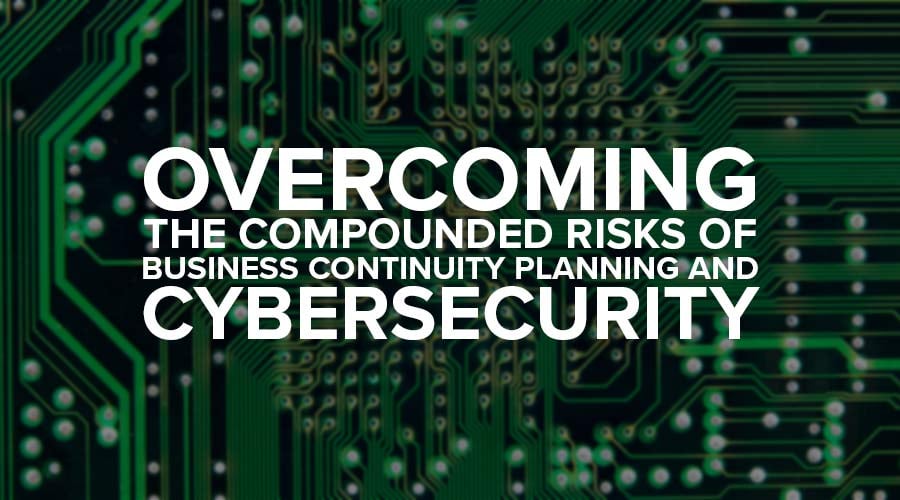 Join us for the upcoming webinar:
OVERCOMING THE COMPOUNDED RISKS OF
BUSINESS CONTINUITY PLANNING & CYBERSECURITY
Fill out the form to get an email with a link to the video.
---
There's disaster, and then there's disaster: A branch building can be repaired after a tornado, but lost customer data is forever lost. With the many demands of business continuity planning, is every department in your financial institution best prepared? Have business continuity plans been updated in light of all the cybersecurity risks? Do you have a modern communication plan?
For business continuity planning, every FI must ensure that that key business functions, infrastructure and processes have properly identified with a business impact analysis, a plan for recovery, and ability to communicate and test this plan. With all of the complexities created by having a technologically modern financial institution, business continuity planning has become more complicated. Plus, you have to account for key vendors and their business continuity planning in light of your financial institution's overall operations.
Attend this webinar where you'll learn about how best to:
• Break down silos between departments for best practices in handling business continuity planning and cybersecurity
• Manage business impact analysis in light of cybersecurity issues
• Explore regulatory mandates that hold your executives and Board members responsible with cyber risks
• Learn how the FFIEC's Cybersecurity Assessment Tool is impacted by business continuity planning
• Assess best practices for communication plans to insure ongoing operations in light of cyber security issues.